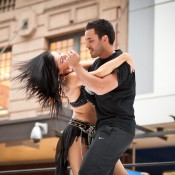 Originating in the Caribbean islands of Guadeloupe and Martinique in the 1980's; Zouk is a deeply soulful utilisation of body movement and partner to partner connection which has evolved from a traditional French Caribbean expression and has fused with Brazilian dance styles to form Zouk-Lambada; the style recently introduced to Australia.
Traditionally, Zouk is danced to various forms of French Caribbean, Portuguese Cape Verdean and other Zouk-like rhythmic music. Its versatility, however, lies in its ability to be interpreted through modern R&B, latin, Arabic, mainstream pop and soul-contemporary music all with the signature Zouk timing and rhythm. Because it fits naturally within multiple musical genres, Zouk can be danced to music that is slow or relatively quick, moody or joyful, celebratory or deeply sensual.
In Zouk, regardless of the music chosen, the focus of the dancers is on connection with their partner and fluidity of bodily movement. When danced well, Zouk often appears effortless, when in fact it is a highly disciplined and skilled form of dance that demands core stability, body control and artistic expression. Musicality is paramount; as is maintaining emotional, mental and physical synchronicity with your partner. Zouk commonly showcases the female partner through use of her hair and display of her hip movement and leg extension. It should be danced smoothly and when presented correctly is mesmerizing in its celebration of sensuality, freedom and the beauty of human connection. Zouk is led not solely through the arms as in most other forms of partner dances but depends on hip-to-hip, leg, torso and even eye-to-eye connection of the partners.