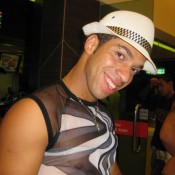 Roberto was born in Rio de Janeiro, the cradle of samba, where he participated for several years in the world's largest samba parade, the Carnival. He paraded as a sambista in the world's greatest samba school, "Beija-Flor de Nilopolis", dancing, doing choreography, and fashioning costumes and allegories for over 10 years.
He began his dance lessons at age 8, initially in jazz and ballet, over time specialising in jazz, contemporary and Las Vegas show style.
At 13 he was part of his first professional work, being the youngest dancer of "Sonia Maria Dance Company", performing in several theatres of Rio de Janeiro, including the "RioSampa".
At 17 Roberto was approved by the Rio de Janeiro dance syndicate, which endorsed him as a choreographer and dance teacher. He joined his first Dance Partners Company, "Space Teen" – a dance group of teenagers 11-16 years old, based on jazz and street dance. With this group he performed several roles, including choreographer and dancer, and also opportunities to teach in dance schools in Rio.
At 21 Roberto succeeded in audition to become a dancer at the Olympus Theatre, where he was part of the corps de ballet for 2 ½ years, dancing alongside icons of dance and performing  with many  Brazilian musicians and being choreographed by Adriana Miranda. At age 24 in audition he was approved to work for Star Cruises (Malaysia), dancing with several Asian divas in the "Arena of Stars" and in "Genting New Year's Eve Dinner", followed by embarking on 3 major ships of the Company (Super Star Gemini, Libra & Pisces). Here his talent as dancer and choreographer was exploited to the maximum in several countries including Malaysia, Singapore, Thailand, Hong Kong, Japan, Indonesia, Australia, The Netherlands and Taiwan.
And during his tour around Australia Roberto fell in love with this country and people and decided to live here. Today Roberto is regarded by many as the best male samba dancer in Australia and as one of the most experienced and respected figures in men's Latin dance in SA.
Roberto's formal qualifications include a degree in physical education from Brazil, certificate 3, 4 & masters in fitness from Australia Institute of Fitness, Zumba Fitness certificate, and qualification and accreditation from the Professional Dancer's Syndicate of Rio de Janeiro.
"I believe in love for dance as a way to move the world trough body language. Dance and music are the best stimulus that your soul can receive."
– Roberto Ribeiro.