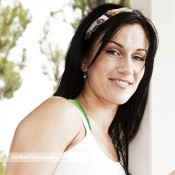 Originally from the UK  Joanna Grech has been dancing from the age of 4, trained in Classical Ballet at the Royal Academy of Dancing in England. After emigrating to Australia, she began training as a gymnast and then later in Jazz Ballet with the Newmett Dance Company, with whom she performed for several years in dance theatre productions; Peter Pan, Grease and A Midsummer Night's Dream.
Travelling extensively for two years throughout Europe, Asia, South and Central America, Joanna was inspired to shift her focus to Latin Dance. After soaking up the vibrant rhythms of the Latin Americas she adapted quickly to the popular styles of Salsa, Samba, Bachata and Lambada. Learning from many of the prominent Latin companies in Adelaide and involving herself in competitions and festivals both locally and interstate, Joanna has had the opportunity to learn from many of the best national and international instructors in the business.
Joanna began training in Latin American dance styles with Latin Fever in 2003 and then with La Bomba Dance Productions from 2004. She commenced teaching Salsa and Brazilian Samba in 2006 for Latino Dance Studio and began performing with the Danca Brazil Samba Team and Latino Grooves from 2007.  In 2009-10 Joanna began training in Samba de Gafieira with dance partner Kadu Rodrigues (from Sao Paolo) with whom she founded the dance collective 'Brazilian Dance Project'. She also trained in Zouk Lambada and Samba de Gafieira with Gaspar Ribeiro (from Rio de Janeiro) and joined his dance company initiative 'The Adelaide Zouk Project'. It was through performing in Gaspar's Zouk Team that she met ballroom dancer James Deane and in 2011 'Brazilian Dance Fusion' was formed, dedicated to teaching authentic Brazilian Dance Styles.  
Joanna is also an accredited Zumba Fitness Instructor and has worked for Australian Dance Theatre, WEA, Next Generation and Fitness First Gyms as well as operating many of her own fitness classes, helping to bring Latin Flavour to the fitness world.  Joanna also has a Bachelor Degree in Visual Arts majoring in photography, which coupled with her artistic background has also enabled her to design all the elaborate Brazilian Carnival costumes for her dance teams over the years. In addition to this she also has a Bachelor Degree in International Studies majoring in Development, a Diploma of Language majoring in Spanish and a Certificate 4 in Commercial Dance, majoring in Jazz and Contemporary. She performs and teaches regularly at high profile events around Adelaide some of which include; the Fringe Festival, Womadelaide, Clipsal 500, Adelaide Salsa Ball, National Latin Congresses in Sydney, Brisbane and The Gold Coast. Joanna is also the First Place Winner (together with James) of the Professional Couple Category at the Tropicana Street Latin Competition for 2012, with her Brazilian Dance Fusion Student Samba Team also holding the Second Place title for the semi pro solo in 2011.
"I can't imagine my life without Dance…. it has always been there. It is a part of my soul and the very essence of who I am, I express myself through its unspoken intensity and it reciprocates clarity into my life"